Elävät kivet in English
Elävät kivet is a gospel choir that works in association with the Evangelical Students of Helsinki. The choir consists of about fifteen singers and a band. The members of the choir are young adults from the Helsinki area.
The conductor of Elävät kivet is Vilhelmiina Väyrynen. She is the tenth conductor in the 30-year history of the choir.
The repertoire of the choir is mostly composed by the conductors and the choir members. Among the pieces there are rhythmic songs as well as sentimental and touching songs. The joy of singing and of being able to spread the Gospel through their music can be heard in the choir's performances.
The choir has a few concerts every year, and they often perform in Masses. They've had concert tours in Estonia, Sweden, Hungary and Russia. The choir has also released five recordings: "Elävät kivet", "Riemulähteellä", "Suuri Hän on", "Joulu" and "Rajapyykkejä".


Are you interested in ordering a performance from El&aumlv&aumlt Kivet?
We sing in many different languages and our programm is wide and varied. Our repertoire includes peaceful and sensitive music as well as rhythmic music, classical Christian music, psalms and hymns, as well as Finnish, American and African gospel music. Our music is well suited for church events, Communion Services, Christmas events, youth and student evenings, and private events.
If you are interested, please contact us by e-mail to and we will get back to you as soon as possible.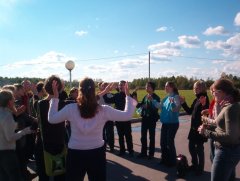 Photo by Aurora Seppänen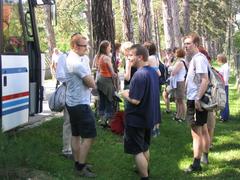 Photo by Matti Erkama